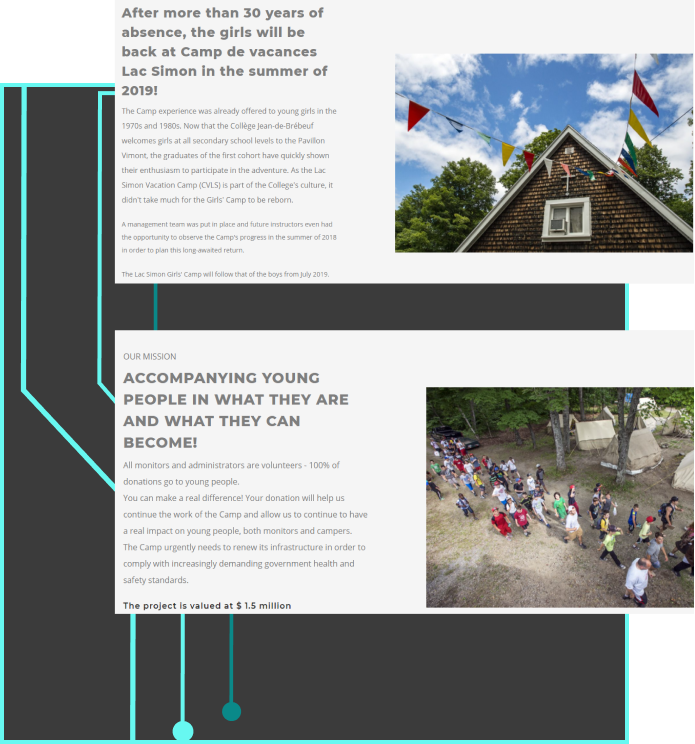 The Camp's website was built with an emphasis on the memory of all the bright moments spent by the campers and counselors during their summers there, through the hand-picked selection of pictures and thoughts of times spent at Lac Simon. The original theme of a child-like heart was emphasized through the artistry and writings of the Little Prince, a classic novella by Antoine de Saint-Exupéry, used by the organizers as an inspiration for the camp experience, as a means of expressing the ideas of openness towards others and friendship.
Made over two versions, the site's second version brought more quality in the aesthetics and presentation of the material in order to promote the values of the camp in the best way possible, and invite donors to give to the great cause the Georges O'Donoghue foundation stands for. Magnificent Systems donated the first version of the site to participate in the volunteering mission, as a contribution of their own towards the great goodness which the camp brings to the children.
Technologies: HTML5, CSS, Javascript, WordPress
Team: 1 developer
Duration: 4 months total (2 months per version)
Our experts will help you to embody your idea in the world of technology and progress.